In the past century, social, political, and environmental movements have created music as much as music itself has stoked the fire of cultural resistance and sown the seeds for a crop of social change. Rock and Roll has altered our society and protests and rallies without music are sleepers. Groups like Clan Dyken have helped people find greater consciousness, validate rebellion, take positive action, build community, transform society–and have fun dancing at the same time.
Based in California's Calaveras County Foothills, Clan Dyken, formed by brothers Mark and Bear Dyken, has harmonized, toured, activated, and entertained for more than two decades. Through the years, many talented members of their immediate and extended family have rotated in and out of the band. The drama of the times (state sanctioned terrorism, oil wars, corrupt leaders, the Berlin Wall's falling, arms race continuing, eco-wars transpiring) has been matched by the parallel drama of the family Dyken. Backstage and front, there has been serious pleasure, power and spirit, as well as pain, tragedy, and loss.
Clan Dyken convey incredible passion for peace, justice and planetary salvation. This passion combined with the experiences of travelers and activists has influenced the music and the presentation. In 1992 The Clan recorded the world's first completely solar powered album, Shundahai, in Hawaii and then donated the solar panels to a local Native school after the recording. They toured with a solar powered stage that folded out of the side of an old school bus, run their tour bus on veggie oil, stumped for Nobody for President in a cross country tour with Wavy Gravy and have used the magic of the music to make friends around the world. This is music from the vernacular of community, rallies, and demonstrations. They've always been willing to lend a hand, tunes, and sound equipment to a worthy campaign.
From the Nevada Nuclear Test Site and the Livermore Nuclear Labs to the Headwaters Forest to the annual Revive the Beauty Way tour and Thanksgiving food and supply run to support the Dineh (Navajo) People in northeastern Arizona, to rallies against nuclear power and forest clear-cutting, for organic farming in rural California, against road building in Britain, for solar and against geothermal power in Hawaii, for civil liberties and peace, against the arms race and fascism. They have distinguished themselves by their activism and their music that celebrates their experiences and hopes for a better future. Getting arrested for peace was for a time a frequent habit of certain band members, nonviolent civil disobedience being a central tenant of their personal philosophies.
During a lifetime of playing music with a great number of diverse, talented musicians the Dyken sound has continued to evolve. Over the course of 10 albums, the Dyken sound ranges from a stark, acoustic solo project by Bear to an eight piece band with screaming guitar solos, keyboards, horns and long percussion jams to jazz instrumentals in 5/4 time to drum and voice chants. Quiet studio pieces, dynamic live concerts and home recordings have been part of the ever changing mix.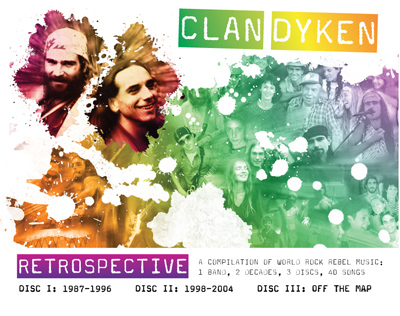 Clan Dyken continues to refine the tribal-funk-eco-folk-rock-hippy-soul music they've been making for more than 20 years, while taking us on an incredible journey into the heart of how we can all contribute to society's positive evolution through collective and personal action. After repeated requests, they have finally pulled together this greatest hits CD for their family of friends and fans. As this great green century unfolds, much of what they've sung about has proven to be prophetic. Partly because of the politics, their uncompromising ways, and their audience, they've performed largely on the fringe of the cultural tableau. But while fame and fortune may have eluded the band, they are rich in community and being correct about our species proper place in the world.
Rebels, activists, organizers, role models, rock and rollers. Clan Dyken know their place in history and revel in it. Along the way they have become the change that they want to see in the world.
By David Kupfer
"One of the greatest rock and roll bands in the free world."
-Wavy Gravy
In 1987 Clan Dyken released it's first recording for sale to the public. To celebrate and document more than twenty years of recording and touring Clan Dyken has released Retrospective, a three disc set with remastered songs from the first recordings to the most recent release. With the release of the CD Love Is, Clan Dyken continues to produce a unique, danceable, stylistically varied music that is well known and loved at home in California -they were voted "Best Band in Calaveras County" in a recent newspaper poll and beyond. They have played over 1500 live shows, toured the US from Hawaii to the East Coast, and played across the ocean in England, France and Italy.
"The music has a powerful, danceable boogie pulse, a certain funkypunkyness that roams around for a chunk of reggae here, an African guitar there, Native American beats and lots of good old guitar contribute to the dynamics. Clan Dyken sings of its truths, plays with conviction and has convincing music and messages."
-Jonathan E, BAM Magazine
Clan Dyken has released eleven albums on their own Forward Productions label. Songs from those recordings are featured in films and heard on radio around the world. They are perhaps best known as the activist band that has played in clear cut forests, proposed nuke dumps, nuke test sites, Indian reservations and many more cutting edge venues, often using solar generated electricity, and /or plant fuels, for recording and performing. The band is fiercely independent; having self produced all of their material, many festivals, events and projects of various sorts. The music reflects this experience in content and form.
The albums have been well received, but it is the live performance that sets this group apart. It's an emotional, high energy charge that draws people in. The musical pulse of the crowd is raised, as they become part of the show.
"I made a point of catching the Clans next performance. I soon found myself swept into the whirling dervish of sweaty humanity, twirling to the Clan's hypnotic, congofied chord patterns and shouting some paean to peace and social justice, celebrating Earth Mother in a Sacramento style Dead Head ceremony, sans-hallucinogens."
-Tim McHargue, Suttertown News
"The lyrics cry out for us to care a little more about our fellow man and our planet, the music lifts our spirits to a state of joyous celebration – there's just no sitting still when the Clan weaves it's spell."
-Kim Angelis, The Violin Voyager
The band has seen many incarnations through more than 2 5 years and eleven record releases. The line up includes Bear on guitars, vocals and other primitive instruments, Mark on drums and vocals, Somer Moon on vocals and Bear's son, Silas on bass.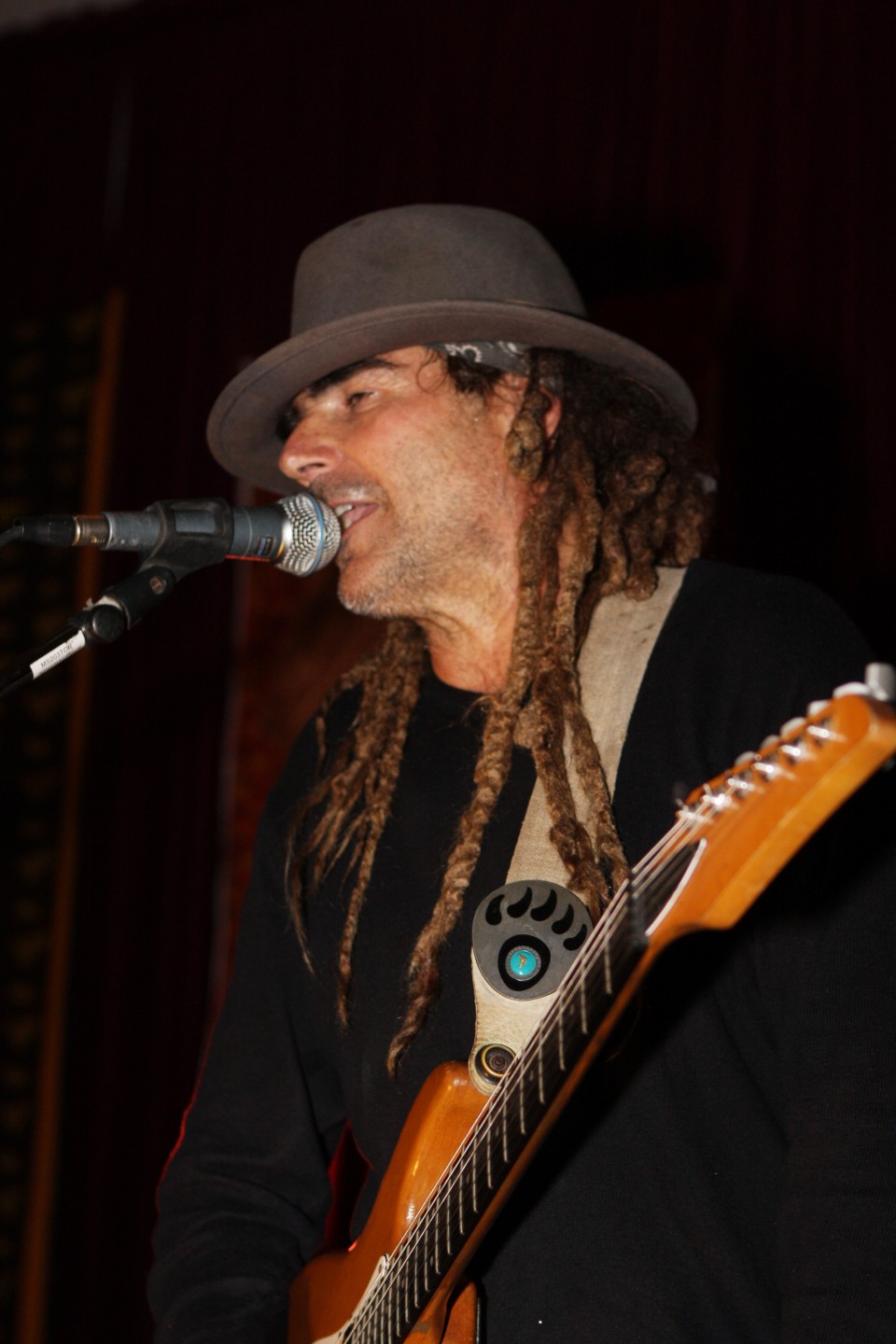 Bear did not learn his music in classrooms, but rather on the road and in the experiential world. A true, life long disciple of music, he has learned to play more than half a dozen instruments on his own. As the front man and main songwriter for the group he is a passionate spokesman for love, life, justice, and beauty. Referring to himself as "an untrained primitive", he uses his guitars, bamboo flutes, hand drums, accordion, harmonicas, and especially his voice to express a wide dynamic range of emotion, and create an atmosphere of celebration. A backwoods mountain hipster/country bumpkin, Bear lives and gardens on the Cedar Creek Land Trust also in Calaveras county California.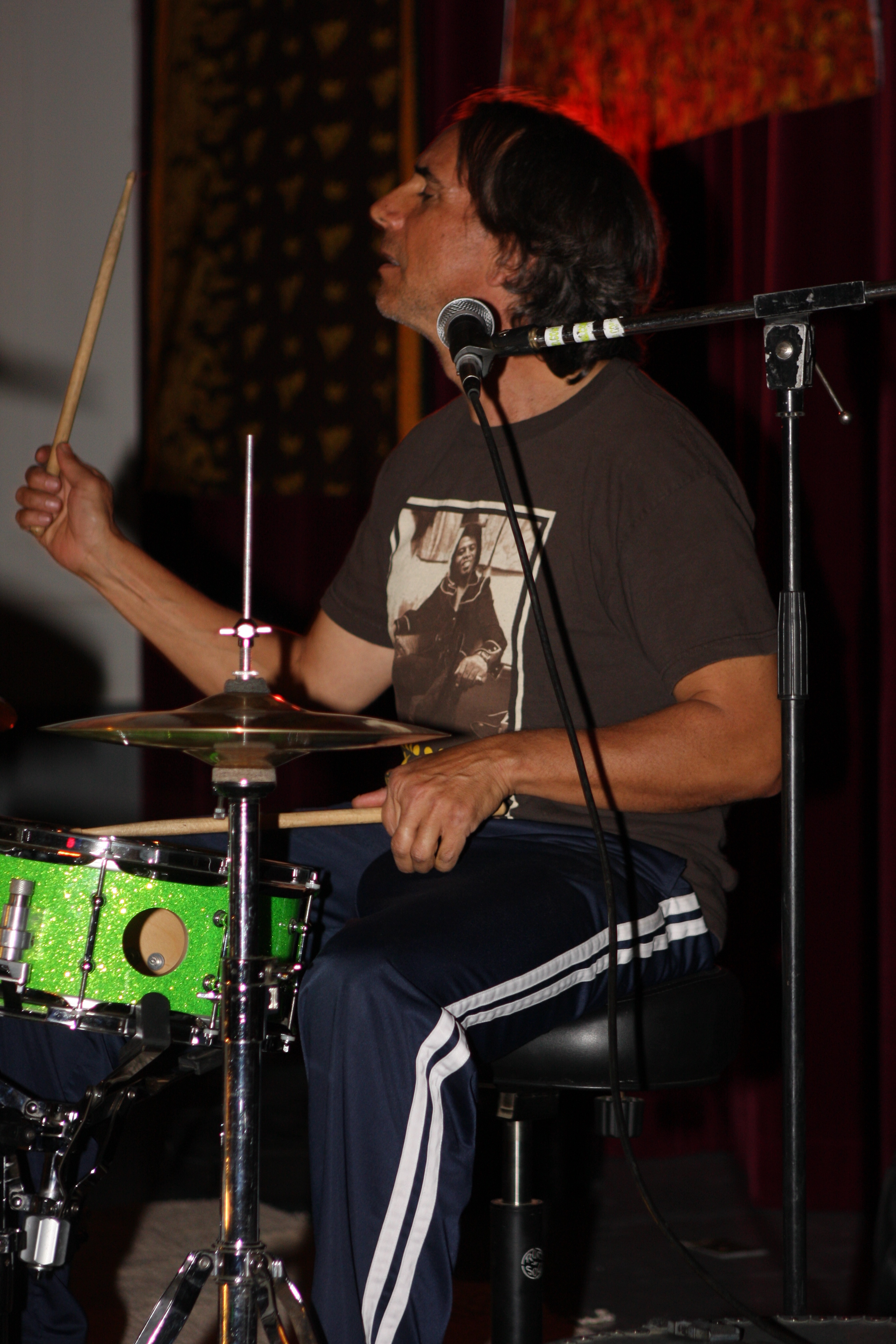 Mark's unmistakable drumming has fueled the family groove since childhood. He took lessons from jazz great, Al Prafke in his early years. School orchestra and marching bands gave way to rock and roll in high school. The man has been pounding his way through jazz, reggae, funk, rock, Latin, Native big drum style and free form jamming of various descriptions, ever since. He is featured as a hand percussionist on the albums of long time musical friend, Kim Angelis, the Violin Voyager.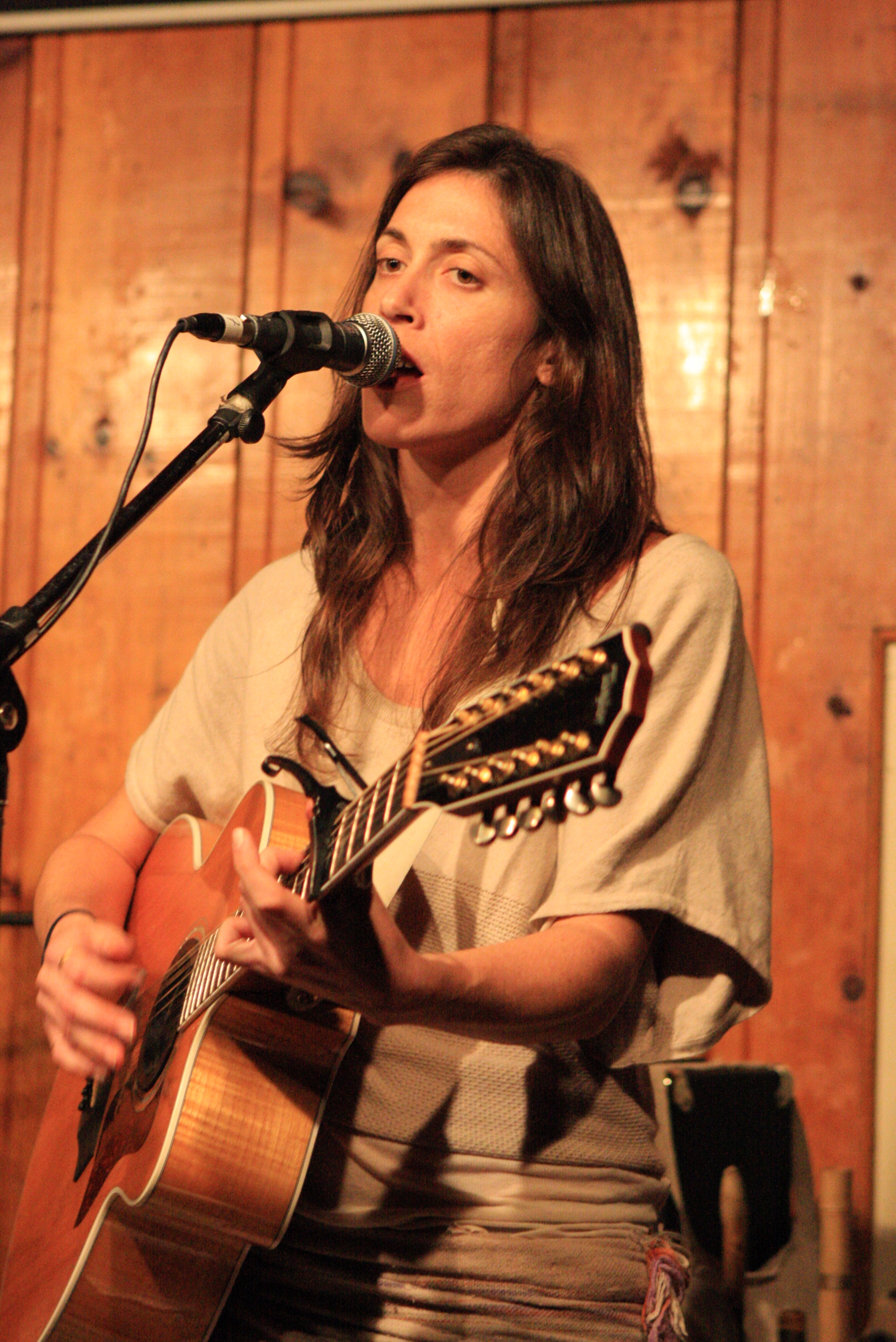 Somer Moon provides her uplifting harmonies and pure vocal talents to bring balance to Clan Dyken.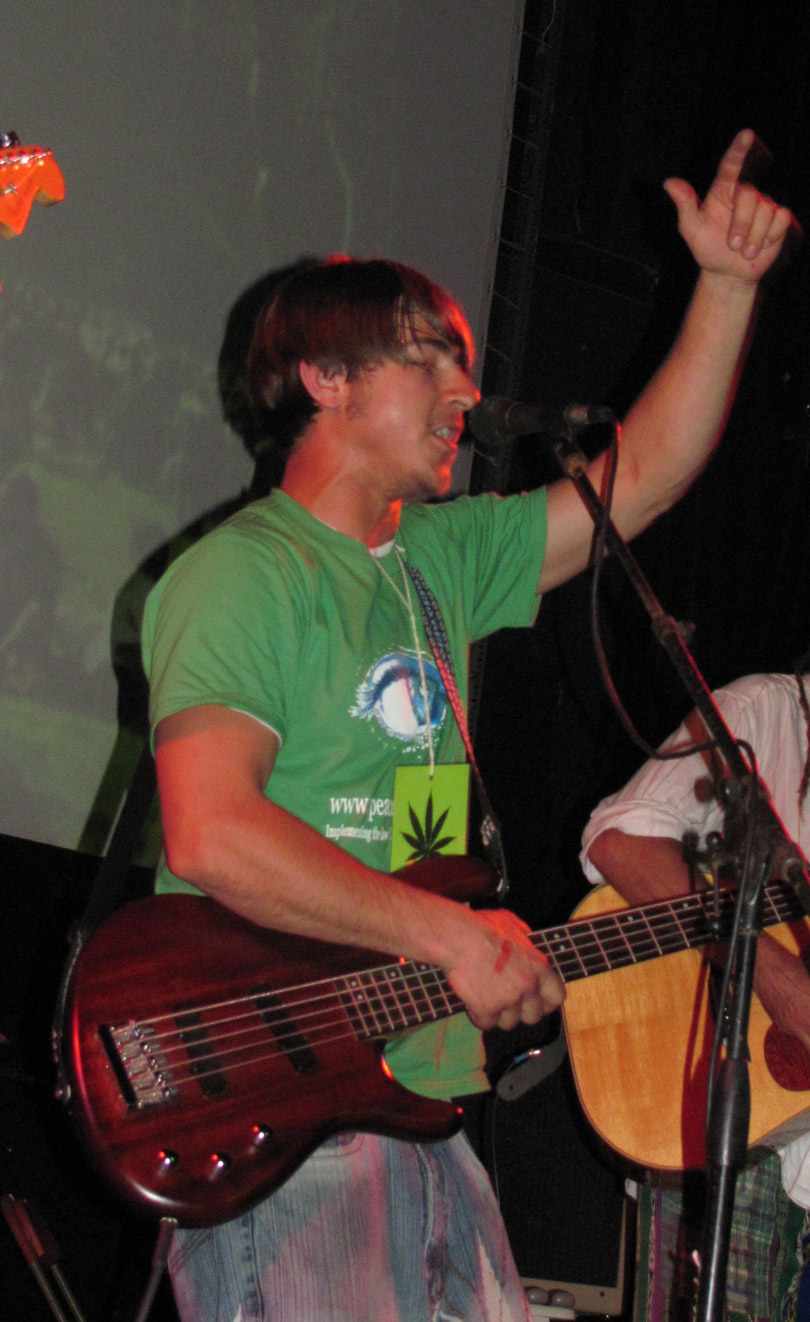 Silas is the most recent addition to the band. His funky, croud-pleasing style of bass is a fresh injection of soul and funk into the bands' organic sound.